Valentine's Crochet Necklace and Bracelet.
I had just been given some Valentine's beads and wanted to put them to use.
I decided that I would make a  Bracelet and Necklace.
The first thing you need to do is choose your beads.
I used bead hearts and pink yarn.
All my supplies I used were:
One: crochet hook
Two: heart beads
Three: scissors
Four : yarn
LETS GET STARTED!!!!!
Make a slip knot first.
Now do as many chain stitches as you want.
Next you are going to want to put your bead onto your hook and do a slip stitch.
Now every four stitches just add a bead until you have your desired length.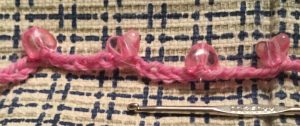 Now that you are finished with your desired length,you are going to want to grab your end and do a chain stitch but this time you need to do a slip stitch.
Now to make the bracelet just do all the measurements but this time do all of them smaller to fit your wrist.
I love this necklace and bracelet because it is quick, but so fun.
I can make them in a matter of minutes and you can too.