This is how I discovered a unique way to make crutches for my doll.
My grandparents came over to visit us. We went fishing and hiking.  We had lots of fun.
One of the days (with my grandparents) we went hiking, While we were hiking, I saw a V shaped stick that was a little longer then my doll.
I then had the great idea of taking it back home with me and cutting it to be my dolls crutches.
And what do you know? My doll had her own pair of crutches. Well, she has only one crutch, but it totally works.
If you decide on giving your doll crutches then you probably need to decide that you won't play with her, AT ALLL!!!!!!
Well, you can get her dressed, but unless you want to drag crutches around with you everywhere you go, you may not want a doll with a broken leg for very long.
I really wanted to play with my doll, but she broke her leg.
The most I got to play with  her was taking her to doctor visits and having her rest every day.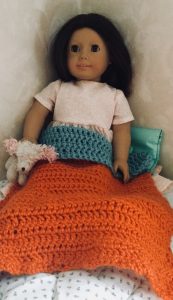 which is not too bad.    My doll rests in bed almost all the
Time.
As you can imagine, she didn't have a broken leg for long.
It was for three weeks, but I pretended it was much longer, like a couple months or so.
I still have the crutches (the piece of wood) but I don't use it that often.
I don't think I ever will get rid of them.
It's in my doll  basket for now.
I have two dolls, so I can pretend that my one doll has a broken leg.
And I will still have my other doll to play with.
At first, it's really fun to have your dolls leg broken, but then after a wile you get  tired of the idea.
If you ever do have a doll whose leg is broken, then make her have a quick recovery. 🙂